What is TORCHGRIP® and what does it do for tablet users?
It's a single accessory that provides four primary solutions for portable technology.
A better way to stand a tablet on a surface
A better way to hold a tablet in the human hand
A better way to attach or mount a tablet to another object or surface
A new accessory platform which enables technology room to grow as an extension
Although there are many more solutions that TORCHGRIP® can provide, these are four important solutions for portable technology today.
The previous two topics in this TORCHGRIP® blog series, highlighted the primary challenges most users face with living and working with a tablet. The underlying focus was on:
– Increasing agility and mobility while using a tablet on the go
– Understanding the value of stability & positioning a tablet when standing it
– Reducing physical pain from holding or viewing the tablet
However, good ergonomics and standing a tablet with absolute stability on a surface, then holding it in a single hand with confidence is just the beginning.
Why stop there when there is potential for even more? As a prelude to what is to come, we're excited to share even more TORCHGRIP® benefits, and explain how competing accessories can't compare.
Tablet Mount Options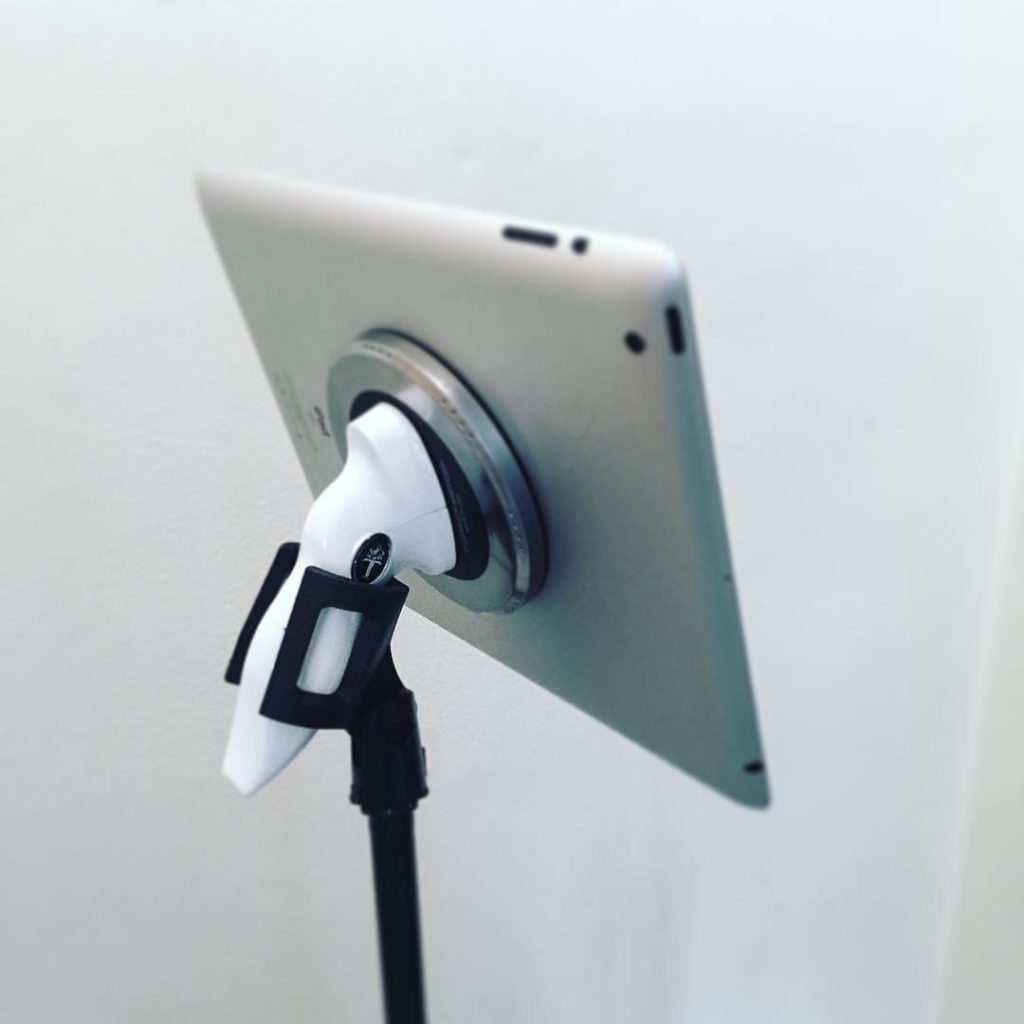 Are you a musician looking for a straightforward way to display sheet music on your tablet computer while you play your instrument? Maybe you're watching a video lesson and want both hands free to play along. What if you had the ability to simply insert TORCHGRIP® into a common microphone clip? This could become a popular option for musicians, public speakers, teachers, and exhibitors alike to use the tablet in a new way. TORCHGRIP® placed into a microphone clip made by On-Stage. Model: MY110
https://www.amazon.com/Stage-MY110-Wireless-Microphone-Clip/dp/B000AJR50Y
Found online and at other retailers for $7.95
See On-Stage.com for more.
Let's explore some other options
What if the same TORCHGRIP® accessory could be mated with RAM Mounts™ versatile mounting system? Disconnect the grip on your TORCHGRIP® kit with a push of a button, then replace the grip with the TORCHGRIP® adapter for RAM Mounts™ system and viola, a whole new realm of tablet mounting solutions are available to you.
We just completed the prototyping and testing stage of an adapter which mates our rotational base mount using an industry standard 2-hole drill mount for the Ram Mounts Patented Diamond Plate Ball Adapter.
http://www.rammount.com/part/RAM-B-238U which retails online for $7.49
Stay tuned for more information on the TORCHGRIP® adapter for Ram Mounts.(Ram Mounts system components and products sold separately). We will have the adapter for sale on our web site TORCHGRIP.com. Just like Ram Mounts, TORCHGRIP® is made in America.
Note: Ram Mounts versatile attachment system allows you to attach to multiple objects and surfaces. Several component/parts can be mixed and matched to address your individual configuration needs.
With TORCHGRIP®, there is no need to buy a different bracket/interface because you've just upgraded your tablet. TORCHGRIP® rotational base mount deals with turbulence and vibration well because we don't rely on suction or a clamping mechanism to secure the tablet. Instead, we use 3M™ VHB™ adhesive which is the same line of adhesive that GoPro® camera mounts use. This also means no extra unnecessary bulk on your tablet. And you can easily disconnect our adapter, snap the grip back on and go.
TORCHGRIP® may not be the last tablet accessory that you will ever need but we believe it will be one of the most versatile accessories you'll own. We seek to offer a unique balance between function, versatility, and personal style that you can see, feel and hold.
Thanks for reading,
James

Ram Mount and their respective logos are trademarks or registered trademarks of National Products Inc.
GoPro and their respective logos are trademarks or registered trademarks of GoPro, Inc.
3M and their respective logos are trademarks or registered trademark of 3M.