Hello, and welcome to our second blog, all about the tablet buying experience!
This time around, the subject matter is in regards to what leads most buyers to purchase a tablet. Most likely the buyer has a list of specific needs however, often the decision may be swayed by the appeal of a great marketing campaign launched by a manufacturer.
The combination of TV commercials and "news stories", manufacturer online video presentations, printed publications and in-store presentations and displays do much to lure the consumer into taking more than just a closer look at the technology…and that's just the tip of the iceberg.
I have to admit; I've always been drawn to buying a new piece of technology based on four things.
Keynote Presentations
First there's this thing called a keynote, a talk that establishes a main underlying theme and in the technology industry it generally involves a well demonstrated live presentation. Apple® has become the master at online keynote presentations. You can't beat their way of launching a new product or product model. It's not so much the keynote, it's the high production value video commercial within the keynote which artistically combs over every millimeter of the technology in HD video that gets me motivated.
Online Store
Then second, you're moved to go check it out at the online store and "BAM", there it is hovering across the screen accentuating the same highly refined internal and external design elements on the device.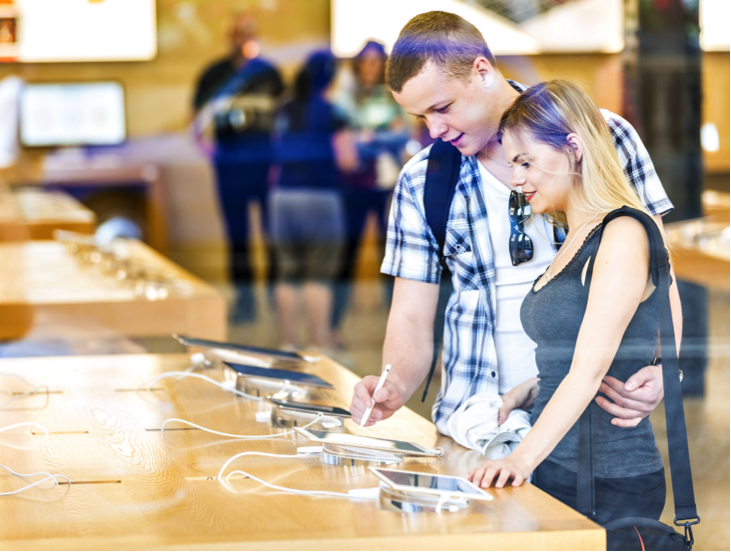 Price Tag and Budgets
Thirdly, I try to block out the first two motivations and move to rationalize the price tag with my budget and need for the product.
In-store Experience
And last but not least is the fourth reason, the in-store experience. There it is again, the tablet just hovering 2 or 3 inches over the counter top display as it's supported by a cylinder cut diagonally to pitch the screen at the perfect viewing angle for the prospective buyer. Suddenly echoes of the messaging your brain has absorbed elsewhere is replayed all over again saying, "It's thinner, lighter, faster and more capable than ever before! And look at all of the model options there are to choose from!"
It's not just Apple®. All of the manufacturers do it and do it well. Samsung®, Microsoft®, Google® …the list goes on and on.
Need Vs Want
So okay, perhaps it's because I'm a male. Like many men, I am primally attracted to the technology. All the more reason to take a step back and focus on reason number three and that is, weighing the price tag versus the need for a new device.
There's no denying that everyone can have a different list of needs or considerations for buying a tablet for personal uses, or shared uses within a family or group environment.
Here's my short list of just 12 for starters:
I don't want a laptop in my lap all the time, but want a larger screen that's larger than my smartphone and still have the portability.
Apps are tools and there are many designed specifically for tablet users.
It doesn't fit in my pocket like my phone however, when it comes to sharing photos or video with others it does a better job.
Quickly check or respond to email when my eyes are tired, a plus over looking at small type on a phone.
No waiting for it to power up like a laptop or desktop computer to do the same thing.
If I want to do a lot of typing, I can do so with a Bluetooth or magnetically attached keyboard in comfort.
Hey…I can create artwork or sketch a diagram using a stylus if I want.
Video conferencing for work or leisure time with family or friends is a real plus!
Tablets are a great controller for home AV setup or smart home applications.
Tablets work well at trade shows for collaboration with larger groups, and credit card transactions.
A more robust music and entertainment experience wherever I go.
A more convenient and comfortable web browsing experience.
Don't Forget the Accessories!
And with that I would like to add, our accessory product solution named TORCHGRIP® will enhance the way you and your family stand, hold, share and use your tablet. You can see it and learn more by visiting www.TORCHGRIP.com, Facebook, Instagram & YouTube.
But for now…tell us how you get the most out of your tablet at work, school or in leisure life.
Thanks for reading,
James